My Blog
Posts for tag: pregnancy
By Richard R. Marek, DDS
July 07, 2019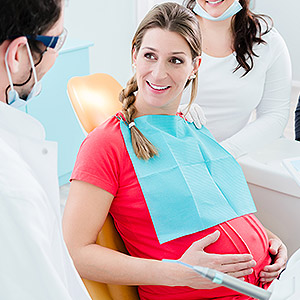 While pregnancy is an exciting time for expectant mothers, it can pose extra health challenges. This is especially true regarding dental health.
Because of hormonal changes that naturally occur during pregnancy, your teeth and gums are at higher risk for dental disease. These changes can increase cravings for carbohydrates, particularly sugar. Increased sugar consumption feeds bacteria found in dental plaque, which is most responsible for tooth decay and periodontal (gum) disease.
Hormonal changes can also make your gums more susceptible to infection. Conditions may be favorable for a form of gum disease called pregnancy gingivitis, which can begin as an infection in the surface layers of the gums. But like other forms of gum disease, pregnancy gingivitis can advance below the gum line and lead to serious health consequences.
Because of this "pregnancy effect" on your teeth and gums, there are some things to which you should pay heed while you're expecting. First and foremost, keep up a daily regimen of brushing and flossing to remove accumulated dental plaque. You should also control your sugar intake to minimize bacterial growth that can cause disease.
It's also important for you to continue regular dental visits during your pregnancy. Your dentist will monitor your dental health and initiate treatment if you begin to show signs of disease. Besides professional cleanings, your dentist may also prescribe antibacterial mouthrinses to combat bacteria.
As far as dental procedures, essential treatments like fillings, root canals or extractions are usually considered safe to perform during pregnancy. But elective treatments of a cosmetic nature are best postponed until after your baby's delivery.
One last tip: because of the higher risk of tooth decay or gum disease, be on the lookout for any abnormal signs in your mouth. This includes spots on the teeth, tooth pain or swollen, reddened or bleeding gums. If you see any of these signs, see your dentist as soon as possible.
Your teeth and gums are indeed at risk for disease during pregnancy. But daily hygiene, regular dental care and attention to signs of disease can help keep that danger at bay.
If you would like more information on prenatal dental care, please contact us or schedule an appointment for a consultation. You can also learn more about this topic by reading the Dear Doctor magazine article "Dental Care During Pregnancy."
By Richard R. Marek, DDS
July 15, 2015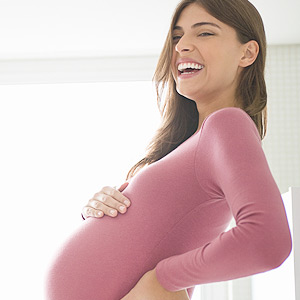 For a healthy pregnancy, it helps to have healthy teeth and gums. In fact, the American College of Obstetricians and Gynecologists (ACOG) encourages its members to advise expectant moms to see their dentist. But maintaining oral health can be more challenging when you're expecting. For one thing, hormonal changes make you more susceptible to periodontal (gum) disease, which has been linked to "systemic" (general body) health problems including preterm labor and low birth weight.
Periodontal (gum) disease results from the buildup of bacterial plaque on tooth surfaces in the absence of good oral hygiene. It typically starts as gingivitis — inflammation and redness around the gum margins and bleeding when brushing and flossing. If the infection progresses, it can attack the structures supporting the teeth (gums, ligaments, and bone) and may eventually result in tooth loss. And if the infection enters the bloodstream, it can pose health risks elsewhere in the body. Studies suggest that oral bacteria and their byproducts are able to cross the placenta and trigger an inflammatory response in the mother, which may in turn induce early labor.
TLC for Your Oral Environment
Brushing twice daily with fluoride toothpaste and flossing or using another interdental cleaner at least once daily is your first-line defense again bacteria buildup. Professional cleanings are also important to remove hardened plaque (calculus) that brushing and flossing may miss. And regular checkups can catch problems early to avoid or minimize adverse effects. Periodontal disease and tooth decay aren't always painful or the pain may subside, so you won't always know there's a problem.
Dental emergencies such as cavities, root canals and tooth fractures should be treated promptly to address pain and infection, thereby reducing stress to the developing fetus. Of course, if you know you need a cavity filled or a root canal prior to becoming pregnant, that's the optimal time to get treated!
If you would like more information about dental care during pregnancy, please contact us or schedule an appointment for a consultation. You can also learn more about the subject by reading the Dear Doctor magazine article "Pregnancy and Oral Health."