My Blog
Posts for: October, 2017
By Richard R. Marek, DDS
October 28, 2017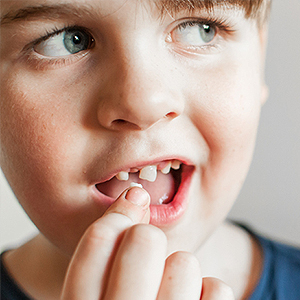 Ah, the baby teeth: those cute little pearl buttons that start to appear in a child's mouth at around 6 to 9 months of age. Like pacifiers and bedtime stories, they'll be gone before you know it — the last usually disappear by age 10-13. So if the dentist tells you that your young child needs a root canal, you might wonder why — isn't that tooth going to be lost anyway?
The answer is yes, it is — but while it's here, it has some important roles to play in your child's development. For one thing, baby teeth perform the same functions in kids as they do in adults: Namely, they enable us to chew, bite, and speak properly. The primary teeth also have a valuable social purpose: they allow us to smile properly. If a baby tooth is lost prematurely at age 6, the child may suffer detrimental effects for five years or more — and that's a long time for someone so young!
Even more important, baby teeth have a critical function in the developing mouth and jaw: Each one holds a space open for the permanent tooth that will eventually replace it — and it doesn't "let go" until the new tooth is ready to come in. If a primary (baby) tooth is lost too soon, other teeth adjacent to the opening may drift into the empty space. This often means that the permanent teeth may erupt (emerge above the gum line) in the wrong place — or sometimes, not at all.
The condition that occurs when teeth aren't in their proper positions is called malocclusion ("mal" – bad; "occlusion" – bite). It can cause problems with eating and speaking, and often results in a less-than-perfect-looking smile. It's the primary reason why kids get orthodontic treatment — which can be expensive and time-consuming. So it makes sense to try and save baby teeth whenever possible.
Procedures like a root canal — or the similar but less-invasive pulpotomy — are often effective at preserving a baby tooth that would otherwise be lost. But if it isn't possible to save the tooth, an appliance called a space maintainer may help. This is a small metal appliance that is attached to one tooth; its purpose is to keep a space open where the permanent tooth can come in.
If your child is facing the premature loss of a primary tooth, we will be sure to discuss all the options with you. It may turn out that preserving the tooth is the most cost-effective alternative in the long run. If you have questions about your child's baby teeth, please contact us or schedule an appointment for a consultation.
By Richard R. Marek, DDS
October 13, 2017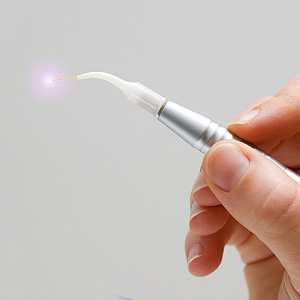 Periodontal (gum) disease is potentially devastating to your teeth, gums and bone. To fight it we have to remove the substance that causes and sustains the disease from all oral surfaces — a thin layer of bacteria and food particles known as plaque.
To accomplish this task, we use a variety of hand instruments called scalers to mechanically remove plaque and calculus (hardened plaque deposits), as well as ultrasonic equipment to vibrate plaque loose and flush it away with water. If we detect plaque deposits well below the gum line and around the tooth roots, we may need to use other techniques like root planing or surgery to access these deeper areas.
 While gum disease is persistent and aggressive, these traditional techniques have proven quite effective in controlling the infection and restoring health to diseased gums. Yet like other aspects of medicine and dentistry, technological advances have created a new option for gum disease treatment: the Nd:YAG laser.
The Nd:YAG laser is named for the crystal it uses to produce a narrow and intense beam of light on a specific frequency. In recent years it's become an important surgical tool because it can distinguish between diseased and healthy tissue, destroying the former while not affecting the latter. It's being used now on a limited basis for treating gum disease, especially for removing infected tissue in deep pockets that can form below the gum line, and for removing plaque and calculus from root surfaces.
 Because of its precision, early evidence of effectiveness is encouraging: minimal tissue damage and swelling, less bleeding and reduced patient discomfort after treatment. The heat from the laser has also been shown to kill bacteria and essentially sterilize the area.
Still, the findings aren't conclusive enough as to whether lasers are superior in most circumstances to traditional scaling methods. For the time being, we'll continue to use the tried and true methods for removing plaque and calculus. But as laser technology advances, the time may come when this new approach to gum disease treatment will become a more prominent and beneficial option for patients.
If you would like more information on your treatment options for gum disease, please contact us or schedule an appointment for a consultation. You can also learn more about this topic by reading the Dear Doctor magazine article "Lasers Versus Traditional Cleanings for Treating Gum Disease."