My Blog
Posts for: April, 2015
By Richard R. Marek, DDS
April 24, 2015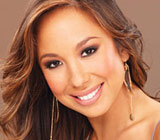 Growing up with a dentist stepdad, Cheryl Burke of Dancing with the Stars heard a lot over the years about the importance of good oral hygiene — in particular, the benefits of using dental floss.
"My dad would say, 'make sure you floss,' but I never really listened to him. I was very, very stubborn," Cheryl told Dear Doctor magazine recently in an exclusive interview. Cheryl admits this stubbornness took its toll, in the form of tooth decay. "I definitely had my share of cavities," Cheryl recalled.
Cavities can form when food particles, particularly sugar and carbohydrates, are not effectively cleaned from the spaces between teeth. These particles are then broken down by bacteria naturally present in the mouth, resulting in the production of acids that attack the tooth enamel.
When she reached her twenties, Cheryl decided she really needed to step up her oral hygiene and cultivate an asset so important to a professional dancer: a beautiful smile. And once she did, cavities became a distant memory.
"I think when you do floss frequently, it helps to reduce the chances of getting cavities," Cheryl said. "It took me a while to figure it out." Now Cheryl flosses after every meal. "I carry floss with me wherever I go. I have no shame busting out my floss in the middle of a restaurant!" She declared.
Dental decay is actually a worldwide epidemic, especially among kids. Untreated, it can lead to pain, tooth loss, and, because it is an infectious disease, it may even have more serious systemic (whole body) health consequences. The good thing is that it is entirely preventable through good oral hygiene at home and regular professional cleanings here at the office.
If it has been a while since you or your children have seen us for a cleaning and check-up, or you just want to learn more about preventing tooth decay, please contact us to schedule an appointment for a consultation. If you would like to read Dear Doctor's entire interview with Cheryl Burke, please see "Cheryl Burke." Dear Doctor also has more on "Tooth Decay: The World's Oldest & Most Widespread Disease."
By Richard R. Marek, DDS
April 09, 2015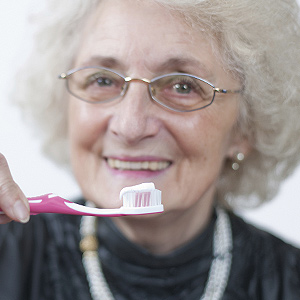 A focus on dental care in senior citizens is just as important as it is for children. Indeed, oral health in your later years can be a major factor in your quality of life.
For one, aging effects on other parts of the body can make dental care more challenging. Some hygiene tasks once performed easily become harder — arthritis, for example, or loss of muscle strength may make it difficult to hold a toothbrush or floss. In such cases, you may need to find new ways to make the task easier: a power toothbrush with a larger handle; pre-loaded floss holders or a water flosser; or adaptations to a manual brush to make it easier to hold, like attaching a tennis ball or bike handle.
Other age-related conditions — and their treatments — can negatively impact oral health. Less saliva production, which is a consequence of aging or certain drugs, increases the risk of tooth decay or periodontal (gum) disease. Older adults often develop gastric reflux problems that can introduce tooth enamel-eroding stomach acid into the mouth. And medications called bisphosphonates, often prescribed to treat osteoporosis, may interfere in rare cases with bone healing after tooth extraction or similar procedures.
Prior dental work can also prove challenging to treating dental disease. It becomes more difficult to preserve teeth threatened with decay if there are significant restorations or appliances to work around. Pain perception can also diminish with age, so that dental disease may not be noticed until later stages when significant damage has already occurred.
Oral care requires more attention as we grow older, or as we care for older family members. Your best defense against disease is to continue regular six-month visits with us. In addition to normal cleanings and checkups, we'll also screen for oral cancer (a more prevalent occurrence in older adults), review your prescriptions or other supplements and medications for any possible side effects to oral health, check the fit of any dentures or other restorations and evaluate the effectiveness of your hygiene.
While other age-related conditions may capture the majority of your attention, you shouldn't allow that to neglect your dental care. With your continued efforts, along with our support and your family's, you can continue to enjoy good oral health throughout your lifetime.
If you would like more information on dental care for senior adults, please contact us or schedule an appointment for a consultation.